2022 Scientific Congress and Expo
ASRM is busy getting ready for the 2022 Scientific Congress in Anaheim, California!


Do you want to Exhibit? Contact SPARGO, Inc. at Toll Free: (800) 564-4220 or Phone: (703) 631-6200, Fax: (703) 563-2691, or Email: asrmexhibits@spargoinc.com


Interested in Registration? Registration will open in late spring/early summer! Check back later for more information.
---
Until then, check out what we did last year -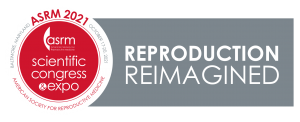 We reimagined reproduction in 2021! We're archiving some of the materials from the 2021 Scientific Congress on this page.

Click the covers of the Abstract and Program Books below to download the PDFs.